Contact Us for Personal Injury & Litigation Cases

in Bedford, PA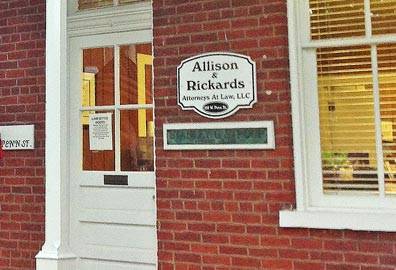 Contact Allison & Rickards, Attorneys at Law, LLC
You do not have to leave the county for representation. If you are injured or have a civil litigation lawsuit you would like to pursue and need a lawyer you can trust, call Allison & Rickards, Attorneys at Law, LLC. We are a group of tenacious and aggressive lawyers who will fight for you and get you what you deserve. Our team of paralegals have nearly 50 years combined experience representing cases like yours and protecting the rights of our clients.
VISIT OUR BEDFORD COUNTY OFFICE AT:
102 W. Penn St.
Suite 1
Bedford, PA 15522
EMAIL US FOR MORE LEGAL INFORMATION:
STOP BY OUR OFFICE DURING BUSINESS HOURS:
MONDAY: 9:00am to 5:00pm
TUESDAY: 9:00am to 5:00pm
WEDNESDAY: 9:00am to 5:00pm
THURSDAY: 9:00am to 5:00pm
FRIDAY: 9:00am to 5:00pm
SATURDAY: Closed
SUNDAY: Closed
FOLLOW OUR FACEBOOK PAGE FOR LEGAL TIPS
Contact Allison & Rickards, Attorney at Law, LLC, for legal representation in central Pennsylvania.